Easy returns within 30 days
THE BASS TRINITY
The trilateral symmetry is a crucial part of Thunderstone design. The shape allows for three bass ports, and more importantly, for resonance tubes. This means the subwoofer can produce much clearer and lower frequencies, all the way down to a well-articulated 40 Hz.
JUST PRESS PLAY
The back of the Thunderstone subwoofer is as minimalist as it gets. The system is always on standby, ready for you to connect via Bluetooth or one universal 3.5mm analog stereo/mini-Toslink optic input. Dual function input you might be familiar with from Apple's MacBooks
TURN IT UP
The two volume rings on top of the Thunderstone use magnetic Hall sensors. Over the time, the standard potentiometers have a tendency to crackle and break, the Hall sensors are indestructible and will perform flawlessly for decades. The external ring adjusts the bass, the internal controls the overall volume.
LIGHT IN THE DEEP
Mimicking deep-sea bioluminescent creatures, each bass port also contains an LED light source. A subtle amber light indicates when the subwoofer is plugged in and gently brightens as the volume increases.
THE HEART BEAT
Inside the Ionic Sound System is a chip set of our own design. Switch-mode power supply, control board with Bluetooth chipset running aptX & AAC audio codecs and a heart that keeps it beating, a powerful D-class integrated amplifier with ultra-low noise levels.
PREMIUM CABLES
External cables are manufactured from a twisted pair - silicon insulated wires covered in a braided sleeve. Each terminated with a 4 mm banana plug. The conductor is made from very fine, oxygen-free, pure copper strands giving the cable outstanding flexibility properties.
EVOLVED SOUND
The full range driver is housed in the tapering wave-guide spiral that prevents sound waves being emitted from the back of the unit. The tube is also filled with absorbent fibre, which soaks up the sound energy from the back of the driver.
OUTSTANDING DRIVER
Driven by a 3" full-range driver with a bamboo fibre paper cone, structured Santoprene surround, and powerful underslung motor. The driver delivers impressive responses from 75 to 20,000 Hz with very low distortion.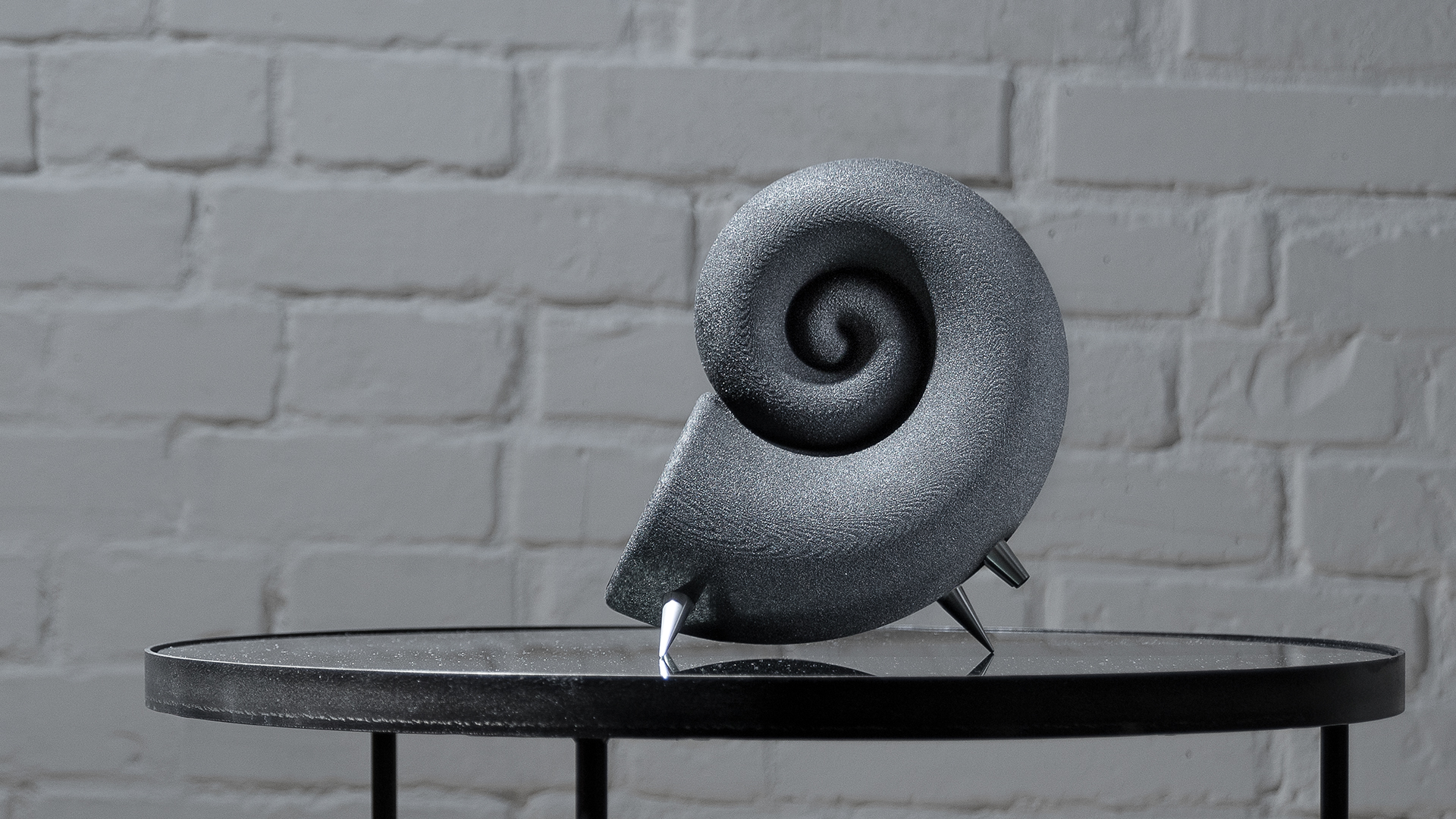 AIMING AT THE SWEET SPOT
The speakers are designed at an ergonomically calculated angle to aim directly at your ears. Whether placing the speakers on your desk or TV table, you are already sitting in the sweet spot to experience the optimal enjoyment of the speaker configuration.
One Thunderstone subwoofer
Two Spirula speakers
Premium audio cables
Optical cable
Jack-Jack cable
THUNDERSTONE SUBWOOFER
Design: Triple ported enclosure
Materials: Silica Sand, Aluminium
L×W×H: 372×372×239 mm
Weight: 6.5 kg
Driver: High-End 5.75"
Frequency Range: 40 Hz – 200 Hz
Nominal Impedance: 4 Ohm
Sensitivity 1W/1m: 88 dB
THUNDERSTONE AMPLIFIER
D-Class: Ultra Low 0.005 % THD+N at 1W–25W/8 ohm
Sat Power Output: 2x RMS 30 W / BTL Peak Power 60 W
Sub Power Output: RMS 55 W / PTBL Peak Power 110 W
Power Input: AC 100–240 V, 50–60 Hz
SPIRULA SPEAKERS
Design: Passive sealed enclosure
Materials: Silica Sand, Aluminium
L×W×H: 208×117×222 mm
Speaker Weight: 2.4 kg
Driver: 3" bamboo fibre paper cone
Frequency Range: 75 Hz – 20 kHz
Nominal impedance: 8 Ohm
Sensitivity 1W/1m: 87 dB
CONNECTIVITY
Audio Input: Analogue 3.5mm Stereo Jack, Digital 3.5mm Fibre Optic Jack
Bluetooth: aptX & AAC audio codecs
DAC: 24bit/96kHz (High-Res)
Range: 10+ meters
Will the Ionic Sound System work with international outlets?
The Ionic Sound System uses a universal power supply that is designed to operate with a power source that provides between 100 - 240 volts AC, thus you can operate it worldwide. Ionic Sound System is supplied with a detachable power cord. The type of the power cord added to the accessory box is based on the customer's shipping address. You don't have to worry about whether you live in Europe, America, Asia, Africa or Australia, we will provide you with the right power cord in your package.
What happens if my Ionic Sound Systems arrives damaged?
Any part of the system that is damaged during shipping or does not work upon arrival will be replaced straight away, free of charge.
We advise using the anti-scratch pads provided with the product. You can easily place them underneath the spikes to protect your desk or furniture.
The speakers spikes seem to have a sharp edges. Can it scratch my furniture?
What is the product surface like?
Imagine a sandstone or sandpaper. The feel and touch are very similar. Due to its natural roughness, please be careful when handling the speakers to avoid scratching other objects or the product itself. Even though if we use the toughest hardeners for the surface finish, we must ask you to handle the products with extra care.